Interview with George Michael entitled "Mr. Pop Man" written by Paul Simper and published in No. 1 Magazine in their December 21-28, 1985 issue.
George Michael talks to Paul Simper about his contemporaries, life at 40, violence and missing Andy.
Were you disappointed to lose out to Duran in the No. 1 poll?
No, not really. Duran won last year when they had a bit of a dodgy time so I quite expected them to do it again. I really liked 'A View To A Kill'. People don't realise that it's two years since the last Duran album. They're good at pacing themselves. I guess the surprisingly slow progress of the Arcadia single would suggest that the John Taylor, Simon Le Bon and Nick Rhodes fans are all a bit pissed off with each other.
I think what Duran are doing is admirable in the sense that they're doing what they want to do. Personally I prefer the things that Nick and Simon are doing. I always liked stuff like 'The Chauffeur' and their slower tracks.
The Arcadia single has a sexiness but the two parts of the band need to be together, I think to really strike a chord.
As a songwriter you seem to get more respect now. people seem to prefer to sharpen their knives on the new young groups like Eighth Wonder…
I don't know about letting me off the hook but I do feel sorry for Eighth Wonder. I think as a first record 'Stay With Me' was badly produced but the song itself was a well-structured pop song. When you're hyped up as much as they were you have to get everything right and they got the wrong combination. They've talked to me about it and I think they need to produce themselves – the same way Wham! took control.
As you become more and more successful is it harder or easier to control everything you do?
You start to worry about individual business things – whether you have complete financial control. But in terms of music – in terms of what we do – it's marvelous. We can pick and choose.
It's nice to think that on the next Wham! album we can decide who we want to be on it and there's a good chance they'll say 'yes'. Not that we're thinking of doing an 'Off The Wall' with every person we can think of doing handclaps and triangles…
It's nice to know that our careers will not now stand or fall on one thing. There was a time when you felt you had to things to keep it all on an even keel. Now we can be much more reliant on the music.
What made you choose 'I'm Your Man' over 'The Edge Of Heaven'?
'The Edge Of Heaven' you can tie fairly strongly to the last album – it's like a more raunchy 'Wake Me Up' – while 'I'm Your Man' is pretty different to anything we've ever done. Also I'd got pretty sick of 'Edge' because we played it all summer in America! 'I'm Your Man' was written very quickly. The whole of the first verse and chorus came to me in five minutes on an internal flight in America.
Were there any other contenders for the first single?
Not really. I've got other songs that are written up here (taps head). There's one I really like that I'm writing at the moment called 'The Colour Of Love' which has a really nice funk bass line.
Have you been recording anymore with Elton John?
Not since 'Nikita' and 'Wrap Her Up'. I think 'Wrap Her Up' may go to Number One.
The way I came to be involved with 'Wrap Her Up' was Elton sang it to me over a backing track and I thought 'Christ, that sounds like a massive hit' so I asked if I was going to do anymore singing on his album could I do it on that track.
Then when I was in the control room listening to Elton singing it I kept hearing this answer line in my head to Elton's vocal. I thought he might not like it 'cos it changes the character of the song, being falsetto. But it's worked well.
I never wanted the song to be a duet though for two reasons. One, because it's Elton's song and I didn't want to feel I'd imposed on him. Two, I didn't know how I'd mime in the video to this falsetto vocal without looking a total ponce.
Up till the end of the song it doesn't sound like me. Well, it sounds like me … but with a garotte on my willy!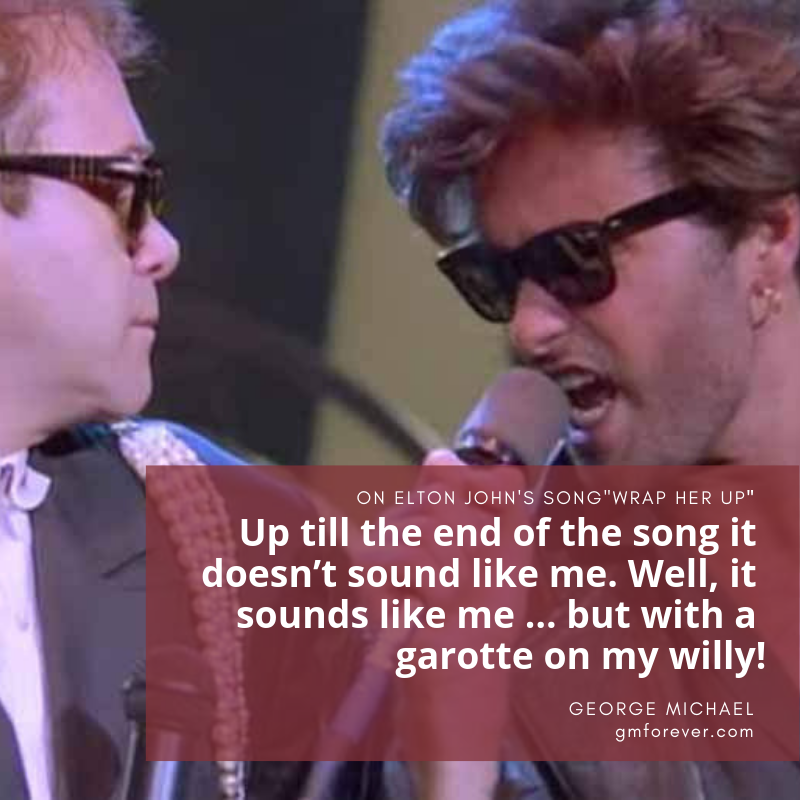 Do you enjoy working with other people?
I love it. I love not having the responsibility of Wham!. It's great just being able to go in and sing. I love songwriting and producing but I love singing more than anything.
It's the most pleasurable. It's probably not what I'm best at – I'm probably a better songwriter – but it's what I love.
Do you sing round the house much?
I sing quite a lot but not enough, actually. I should practice every day but I don't.
What made you choose Was Not Was' 'Where Did Your Heart Go?' (an old song by the trendy Detroit electro funk group) as a cover for your live show?
It was just a song I really liked. Andrew had the Was Not Was album about five years ago. He was pretty trendy. Actually I had a Was Not Was Record before him! It's such a classic song. It reminds me of Dusty Springfield.
If I can get a really good black feel to it I'd like it to be a single. In fact I'd love it to be. There needs to be a slow track on the next Wham! album and rather than do something that's halfway between Wham! and George Michael I'll do somebody else's song.
Have you seen any good movies recently?
I loved Back To The Future. I think that's my favourite of the year. But I avoided the new Mad Max one.
I always found the first two Mad Max movies very offensive in their effect on people. They're very excitingly directed but I've watched people wander in and out of them when I was an usher and you these kids of 16 wandering home wanting to beat the shit out of somebody. If it happens to be a young Indian boy in their way then God help him…
I don't care what anyone says, gratuitous violence in films is dangerous. I can't believe how films are getting more and more violent in the younger ratings but the sex is still restricted. It's totally the wrong way round. If people saw sex in a less taboo manner on film then people wouldn't be so wound up about it. It's pathetic. I don't know who the Board of Censors are but they're total arseholes.
What other films have I seen? I saw Kiss Of The Spiderwoman which is about two gays in a prison cell. One of them's a revolutionary, the other's gay. Eventually through being in this cell together they end up having sex.
It doesn't really work though. William Hurt (Body Heat, The Big Chill) is so miscast as the gay. He's so butch that there's absolutely no way in a million years you can imagine anybody with anything other than really gay tendencies going anywhere near him.
When they 'do it' it's so embarrassing! The whole cinema is crawling!
Have you been approached much to act in movies?
I think we are approached but neither me or Andy get to hear much about it 'cos they're so obviously rubbish. I've written a song which will be used in this new CBS movie which will be like their Footloose for 1986.
I heard a funny thing the other day. This bloke told our press officer that he saw me wandering down the street and he said he immediately thought I was a star and I should be in the movies! He said he didn't know it was George Michael and of course he'd love to represent me. (laughs) I must have been swaggering, I guess…
Can you imagine what you'll be doing when you're 40?
I think by the time I'm 40, I'll just be a songwriter. Or I might be in films. You never know, you can never tell. Three years ago I wouldn't have said we'd be doing what we're doing now.
Do you miss Andy when you're apart?
No! Actually over a long period of time, yes. But there aren't that many occasions when we're apart for long, then it only takes five minutes for me to see him and think 'oh no, bloody hell…'
I think we've probably got the most stable relationship of all the major groups simply because there's just two of us and we got on well.
Other bands will be very displeased to hear we're very steady.
Similar Posts: