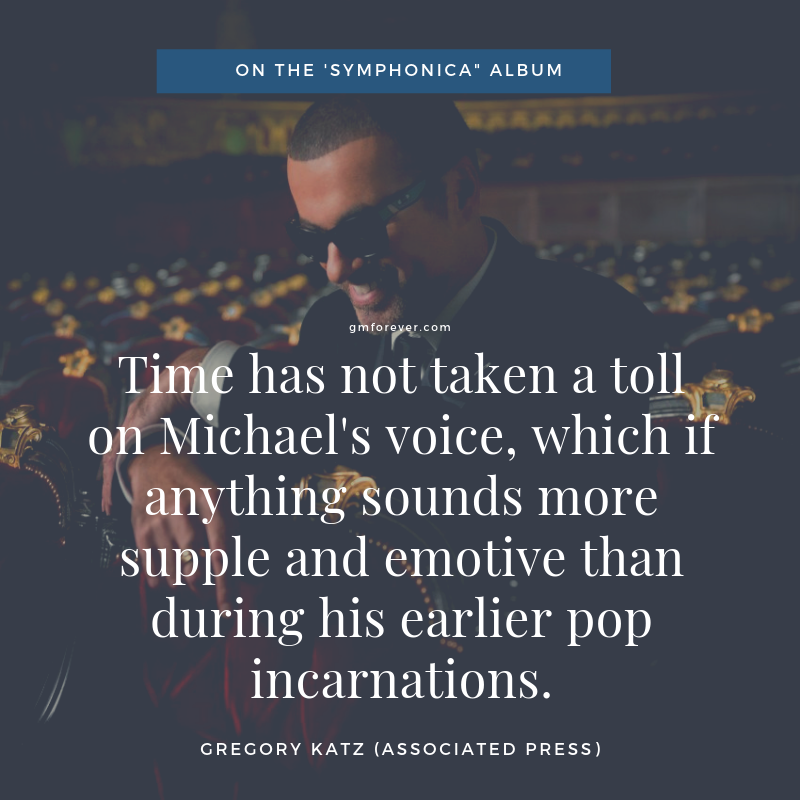 The album review "George Michael in fine voice on live album" was written by Gregory Katz of the Associated Press and published in The News-Messenger (Fremont, Ohio) on March 20, 2014.
George Michael, "Symphonica" (Islands)
Forget about the health issues and personal problems George Michael sounds just fine, super in fact, on his first new album in seven years, recorded during his 2011-12 "Symphonica" tour in Europe.
Time has not taken a toll on Michael's voice, which if anything sounds more supple and emotive than during his earlier pop incarnations. Gone is the swagger and blatant "come and get it" sexuality, replaced by a more subtle singer happy to pay homage to Nina Simone, Marvin Gaye and other giants as the album unfolds. He strikes a wistful tone, lamenting lost youth, in "John and Elvis Are Dead," and captures the yearning and loss at the heart of the old standard "Wild Is the Wind." There's a jazzy feel, with some swing, to his cover of the timeless "My Baby Just Cares for Me," and he captures perfectly the pathos of the American depression-era classic "Brother Can You Spare a Dime."
Michael avoids a number of traps on this album, which was produced by the late Phil Ramone, who also teamed with the singer in 1999 on "Songs From the Last Century." Michael deserves credit for moving deftly into big band and orchestral territory without in any way trying to imitate the master, Frank Sinatra, or taking on the vocal tics of the many other artists who have turned to American standards as a mid-career tonic. The style and phrasings are all his own, confident and understated, and the sparse arrangements allow ample room for his hypnotic voice to soar. He shies way from self -dramatizing vocal pyrotechnics, letting the melodies and lyrics carry the day.
There is a simple clarity to this approach, but it also means the new release seems a bit slow in places. The beat is too subdued, the tempo too languid. The collection could use a show-stopper, a hint of R&B, a touch of cruelty or anger to set off its mellow tone. It would benefit from more of a climax toward the end.
But the quality of the singing puts Michael head and shoulders ahead of the other older English rockers looking to the Great American Songbook for inspiration.
Similar Posts: